Title
Keywords
Our Lady of Cincinnati College; Edgecliff College; Sisters of Mercy
Description
Portrait of Margaret Anne Moliter published in the Edgecliff yearbook, 1979.
Biographical Information
Sister Margaret Anne Molitor, R.S.M., MA, MEd, PhD, became the acting president of Edgecliff College on June 1, 1973 and then was named president effective May 1, 1974. She held this role until 1980. Prior to her presidency, Sister Margaret Anne was chair of the sociology and social welfare department and the faculty senate at Edgecliff.
Sister Margaret Anne attended Milford (Ohio) public schools; received her bachelor's degree from Edgecliff in 1942; a master's in education from Xavier; and a master's and a doctoral degree from The Catholic University of America. She taught in both elementary and secondary schools before joining Edgecliff in September 1961.
In addition to her leadership of Edgecliff, Sister Margaret Anne was a member of the Archdiocesan Social Action Commission, the Commission on Health and Social Services of the Federation of the Sisters of Mercy of the Americas, a member of the board of trustees of the Walnut Hills Area Council and the board of Careers in Social Work, Inc.
Sister Margaret Anne died on July 18, 2003.
Item Identifier
edgecliff_yearbook_1979_moliter.jpg
Repository
University Archives and Special Collections, Xavier University Library, Cincinnati, Ohio
Recommended Citation
Margaret Anne Moliter, Edgecliff College yearbook, 1979, University Archives and Special Collections, Xavier University Library, Cincinnati, Ohio
Rights Statement
Copyright belongs to Xavier University, Cincinnati, Ohio
Preview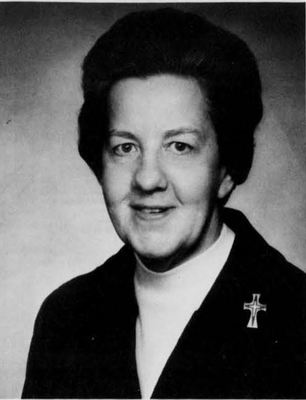 Keywords
Our Lady of Cincinnati College; Edgecliff College; Sisters of Mercy
COinS