Conference Information
Conference Lodging
|
Directions and Parking
|
Meals
|
Conference Reception
Conference Lodging
Conference accommodations are in Bishop Fenwick Place on Xavier's campus. Guests will stay in one of the newest buildings on campus, designed to be a state-of-the-art living community. Enjoy suite-style rooms, grand views of campus from the lounges, and the Hoff Dining Commons right downstairs.
Each suite shares 1 - 2 bathrooms with shower, sink, and toilet. Rooms are furnished with x-long twin beds, mattresses and linens per person (One blanket, one pillow, flat sheet, fitted sheet, a pillowcase, two towels, two washcloths, soap and a cup), desk, chair, and wardrobe. Common areas in each suite feature a sofa, two lounge chairs, and a table and four chairs. Air conditioning and wireless Internet access are standard. Laundry facilities, kitchenette, study lounges, recreation room, and vending are available in the building.
| | |
| --- | --- |
| Single Occupancy One Night | $51.50 |
| Single Occupancy Two Nights | $85.50 |
| Double Occupancy One Night (price is total for both persons) | $87.00 |
| Double Occupancy Two Nights (price is total for both persons) | $139.00 |
| *additional service fee will be applied at booking | |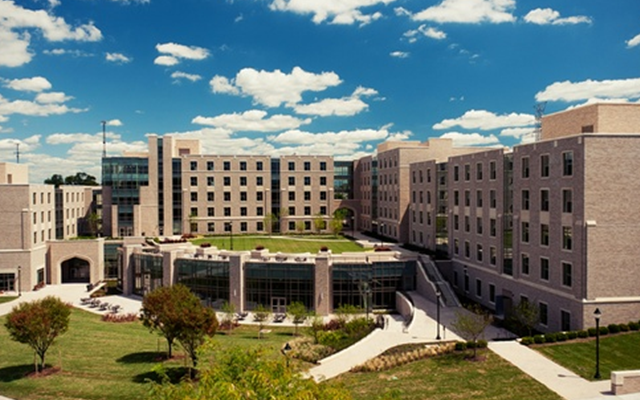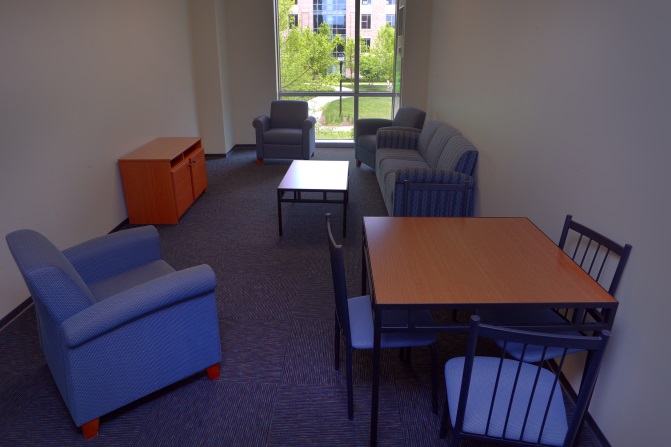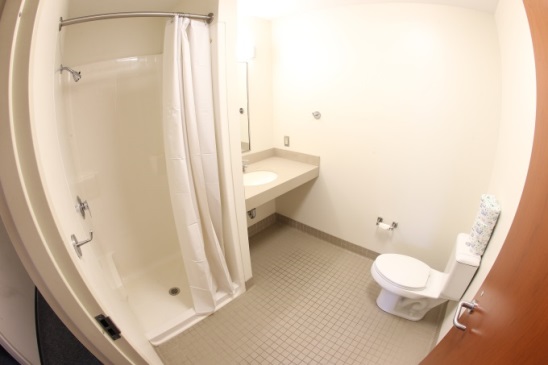 Check-in time is between 1:30 p.m. and 3:30 p.m. on Sunday, May 21, 2017.
Guests staying in Fenwick Place on Monday night only may check in for their room at the conference registration in the Conaton Learning Commons.
Guests checking out on Monday may return their key to conference staff at the registration desk as well.
Check-out time is between 11:00 a.m. and 1:00 p.m. on Tuesday, May 23, 2017.
Book Room
May 7, 2017 is firm deadline
to secure a room for on campus accommodations.
(Last day to request a full refund is Sunday, May 7, 2017.)
Cancellations after May 7 are subject to a $15.50 fee per person.
Fenwick Place is a short two-minute walk from the Conaton Learning Commons and McDonald Library, where most of the OVGTSL activities will take place.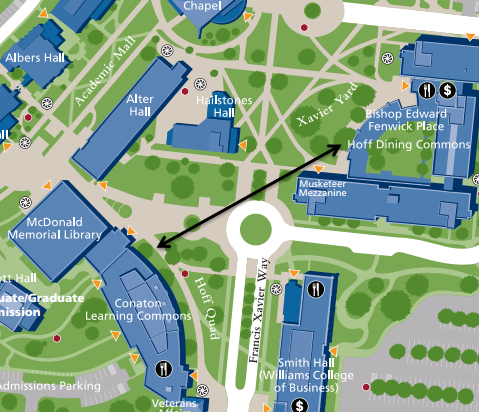 Off-Campus Lodging Options
For those conference attendees wishing to stay in an off-campus hotel, these are suggested local lodging choices - please note, no conference rate will apply:
Courtyard by Marriott Cincinnati Midtown/Rookwood (2 miles)
From $175 per night
3813 Edwards Rd, Cincinnati, OH 45209
(513) 672-7100
Hampton Inn & Suites Cincinnati/Uptown (2.5 miles)
From $149 per night
3024 Vine St, Cincinnati, OH 45219
(513) 281-2700
Quality Inn & Suites (2.5 miles)
From $110 per night
Mitchell Ave, Cincinnati, OH 45217
(513) 242-1010
SpringHill Suites Cincinnati Midtown (Marriott) (3 miles)
From $156 per night
610 Eden Park Dr, Cincinnati, OH 45202
(513) 381-8300
Here is a list of area hotels that may offer a discounted rate for Xavier University visitors.
Directions and Parking
Transportation to campus for conference activities will be the responsibility of the attendees.
Conference Parking Information
Meals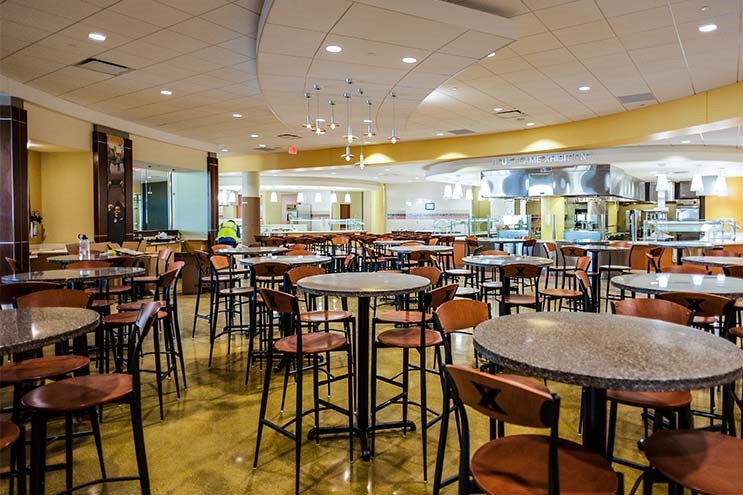 Meals for conference attendees will be served in the Hoff Dining Commons, Fenwick Place. This campus facility offers fresh and exciting meal options at multiple stations, as well as a full beverage selection.
A gluten-free meal option is available to select on the Registration page; Hoff Dining staff are ready to meet other dietary needs without advance notification.
Your registration includes breakfast and lunch on Monday, May 22, and breakfast and a boxed lunch to go on Tuesday, May 23, with other breaks provided in the program facility.
Breakfast buffet is available from 7:30 a.m. to 8:30 a.m.
Buffet lunch on Monday is available from 11:40 a.m. to 12:40 p.m.
Boxed lunches on Tuesday will be available for pick up at the Connection Center in the Conaton Learning Commons (limited to attendees who requested one during online registration by May 7, 2017).
Conference Reception
Join us for an opening reception on Sunday evening, May 21, 6-8 p.m. in the Conaton Board Room of Schmidt Hall (map) on the Xavier University campus.
Refreshments will include light hors d'oeuvres and a complimentary beer/wine bar.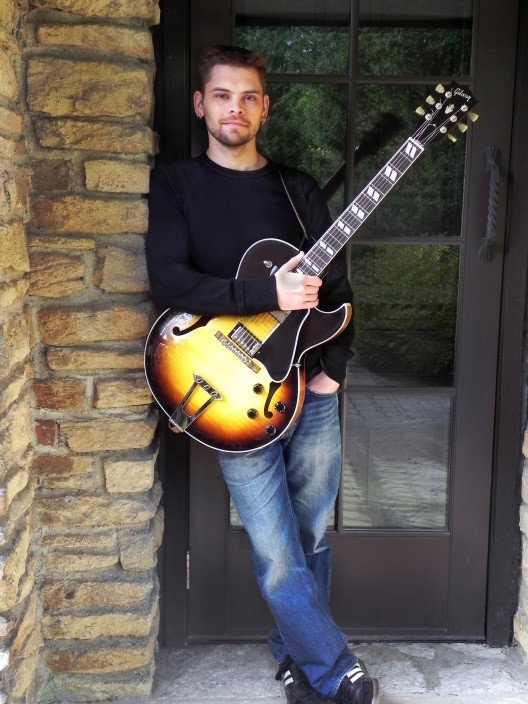 Entertainment will be provided by Cincinnati jazz guitarist Bob Ross, known for his beautiful original works featuring an ear for melody and strong sense of harmony. Bob has made regular appearances at The Greenwich, York St. Cafe, The Celestial, and other venues, and has been regularly featured on Cincinnati's Local 12.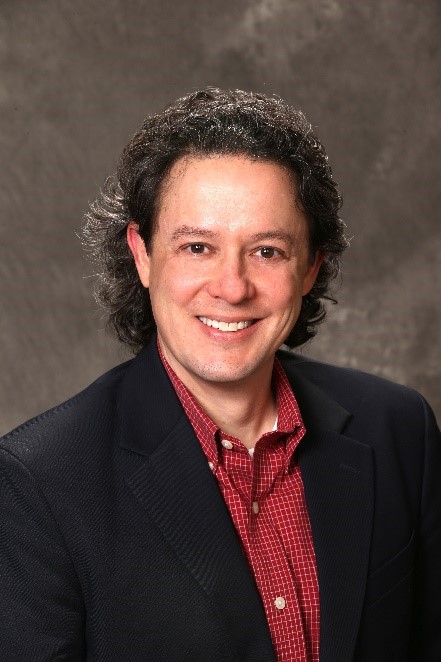 Dr. David Mengel, Dean of the College of Arts and Sciences will welcome us to Xavier University.
Dr. Mengel became Dean of the College of Arts and Sciences in 2016 after serving as an Associate Dean who worked closely with the university's honors and interdisciplinary programs. His commitment to fostering innovative approaches to teaching, learning, and research has been informed by his work as founding Faculty Director of Xavier University's Center for Teaching Excellence.