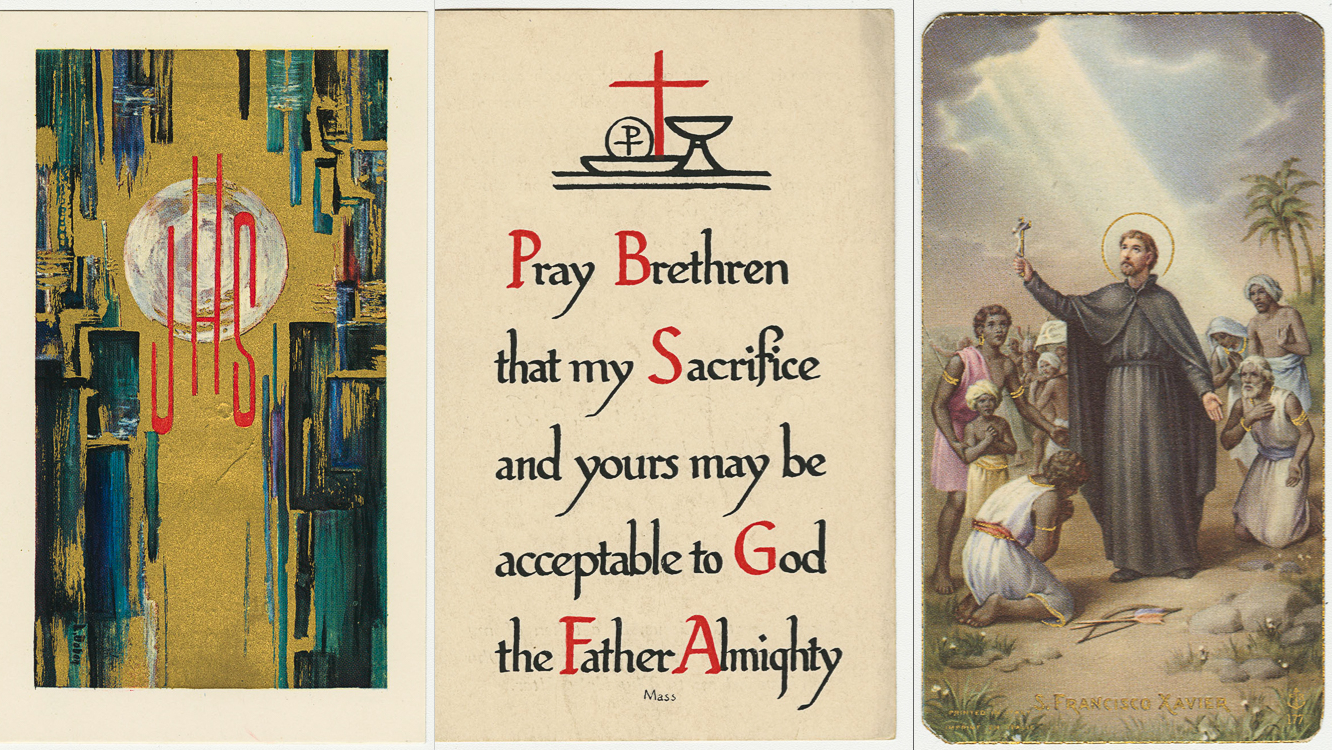 Preview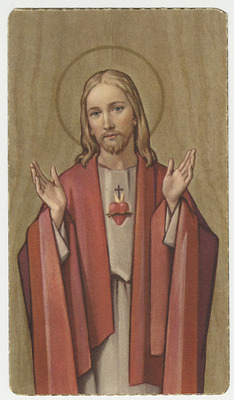 Keywords
Catholic Church; Prayer; Ephemera; Holy cards; Memorial works
Location
United States--Ohio--Hamilton County--Cincinnati
Description
Holy card for a remembrance of the men's "Day of Recollection" held in 1966 at St. Elizabeth Church in Norwood, Ohio. Victor Nieporte served as the preacher. The front of this card contains a portrait of Jesus wearing red and white robes and standing with open arms in a blessing. The Sacred Heart is visible on his chest. The back of the card contains information about the event and a religious call to action (Ortisei 1). This card was made by Bonella Milano and printed in Italy.
Transcription
(back) A.M.D.G. A remembrance of the men's "Day of Recollection" Sunday, March 13, 1966 St. Elizabeth Church Norwood, Ohio Vy. Rev. Victor B. Nieporte, S.J. Preacher Remember, "That you have one life to Live, And to Give to God, and Then The Great Eternity"! Ortisei 1 Bonella Milano Copyright. Printed in Italy
Physical Object Format
Color card
Item Identifier
jmc00559_2d_02_02
Collection
XUA-41, Jesuit Memorial Card Collection
Recommended Citation
"A Remembrance of the men's "Day of Recollection" holy card" (1966). Jesuit Memorial Holy Cards. 47.
https://www.exhibit.xavier.edu/jesuit_holy_cards/47
Rights
The Jesuit Memorial Card Collection is the physical property of Xavier University. U.S. and international copyright laws protect this digital resource. The majority of the cards in this collection were published after 1923 and therefore may not be in the public domain. Images, text, or other content downloaded from the collection may be freely used for non-profit educational and research purposes, or any other use falling within the purview of "Fair Use". However, in order to use the digital reproductions for any other reason users must have the express consent of the copyright holder. Contact Xavier University Archives to inquire about permissions to use the digital image.
Digital Publisher
Xavier University (Cincinnati, Ohio). Xavier University Archives
Keywords
Catholic Church; Prayer; Ephemera; Holy cards; Memorial works
COinS