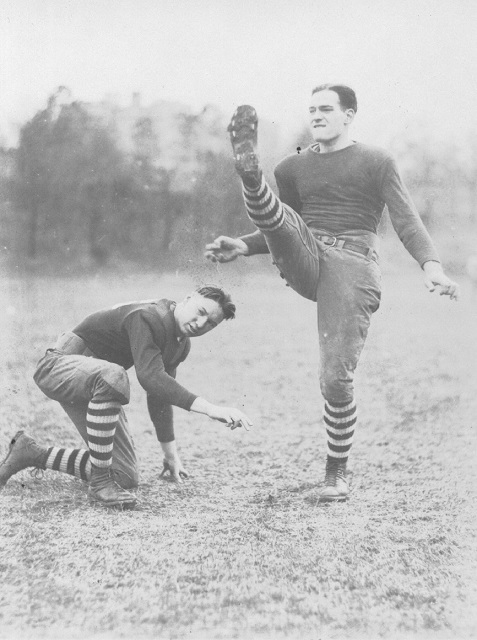 Collection Overview
The Xavier University Archives and Special Collections (Cincinnati, Ohio) has a small collection of 16mm and 35mm film of Xavier University football games from approximately 1940 to 1957. Xavier discontinued its football program in 1973.
The films are silent and mostly black and white. A few films are in color. Some are fuzzy and offer poor viewing quality. The films may have been made by Department of Athletics coaching staff or the Office of Public Relations. Prior to 1950, Xavier home games were not televised. In spring 1950, University advisors along with the president James McGuire, SJ and Edward Vonderhaar, Director of Public Relations, debated the merits of televising games. The films in this collection contain both home and away games.
The analog formats exhibit many physical conditions issues. They were digitized in 2004-2005 as part of an ongoing effort to digitize the University's film assets through Scenesavers, a professional archival transfer firm. The films were transferred to DVD at the time as mpeg1 files, and more recently ripped from DVD to electronic storage. The items in this collection are housed in University Archives and Special Collections, Xavier University Library.
Related Collections
Related collections include the Xavier University Football Collection and the Xavier University Athletic Advisory Board Records.
Copyright Notice
University Archives and Special Collections, Xavier University Library is providing access to this material for personal, educational, and research purposes in accordance with the Fair Use provisions of US Copyright law. Patrons are responsible for determining the appropriate use or reuse of materials. Content from this collection may not be used for any commercial purposes without prior permission from Xavier University.
Submissions from 1957
Xavier University (Cincinnati, Ohio) football versus Toledo, November 9,1957, Xavier University (Cincinnati, Ohio)
Submissions from 1951
Xavier University (Cincinnati, Ohio) football versus Camp LeJeune Marines, September 29, 1951, Xavier University (Cincinnati, Ohio)
Submissions from 1949
Xavier University (Cincinnati, Ohio) football versus Marshall, November 25,1949, Xavier University (Cincinnati, Ohio)