Title
Keywords
Our Lady of Cincinnati College; Edgecliff College; Sisters of Mercy
Description
Photograph of Mary Virginia Sullivan, R.S.M from the Edgecliff Report, published in April 1964.
Biographical Information
Sister Mary Virginia Sullivan, R.S.M., MA, served as the president of Our Lady of Cincinnati College (Edgecliff) from 1960 to 1967, when she left to become provincial director of higher education for the Sisters of Mercy. She was the college's first academic dean, beginning in 1935. Xavier University awarded her an honorary doctor of laws degree in 1964 and Edgecliff did the same in 1974.
Sister Mary Virginia, originally from London, Ohio, graduated from the College of Saint Mary of the Springs (Ohio Dominican University) and received a master's degree from Marquette University. She died on December 8, 1997.
Xavier University annually bestows the Sister Mary Virginia Sullivan Award to an Edgecliff alumna(us) for outstanding service, either to Edgecliff or another sector of the community.
Physical Description
1 newsletter
Item Identifier
edgecliff_report_196404
Collection
Edgecliff College Report
Repository
University Archives and Special Collections, Xavier University Library, Cincinnati, Ohio
Recommended Citation
Mary Virginia Sullivan photograph, Edgecliff College Report, April 1964, University Archives and Special Collections, Xavier University Library, Cincinnati, Ohio
Rights Statement
Copyright belongs to Xavier University, Cincinnati, Ohio
Preview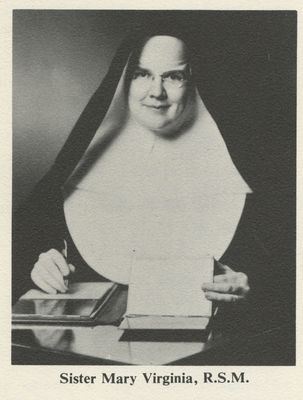 Keywords
Our Lady of Cincinnati College; Edgecliff College; Sisters of Mercy
COinS