Preview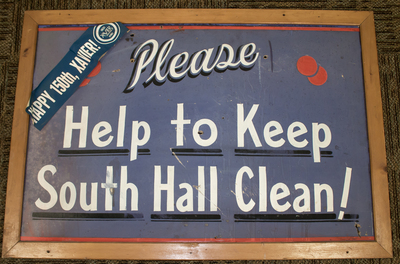 Place
Xavier University (Cincinnati, Ohio)
Description
The Please Help to Keep South Hall Clean sign was displayed in South Hall, the military-style barracks erected by Xavier University shortly after World War II that became a student center. South Hall stood on the west side of University Drive opposite Edgecliff Hall. Around 1966 the university closed South Hall and moved the student union to the new University Center located on the spot where the Gallagher Student Center now stands. South Hall was torn down in 1981. The sign was taken by a student in 1966 when South Hall closed and he added a 150th anniversary of Xavier University bumper sticker to it in 1981. The sign was donated to Xavier University Archives in 2012.
Physical Object Dimensions
69 x 97 cm
Item Identifier
XUA2012-28
Collection
Xavier University Artifacts and Ephemera Collection
Rights
This material may be protected by copyright law (e.g. Title 17, US Code).
Recommended Citation
Xavier University (Cincinnati, Ohio), "Please Help to Keep South Hall Clean" (1966). Xavier University Archives: Artifacts and Ephemera Collection. 4.
https://www.exhibit.xavier.edu/xuaartifacts/4
Keywords
Xavier University (Cincinnati, Ohio), South Hall, signs (notices), ephemera, barracks
COinS