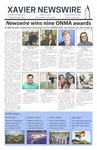 Publication Date
2022-03-03
Coverage
United States, Ohio, Hamilton County, Cincinnati
Description
This issue of the Xavier University Newswire was printed with the issue number 21 in error. It sequentially is issue 22.
Keywords
Xavier University (Cincinnati, Ohio) Student Newspaper, Xavier University (Cincinnati, Ohio) Periodicals
Rights
Xavier University Student Newspaper Collection is published by Xavier University. All rights reserved. The images may be copied by individuals or libraries for personal use, research, teaching or any 'fair use' as defined by copyright law. Permission to reproduce materials in this collection for publication or distribution must be obtained from the Xavier Archives Department.
Publisher
Xavier University
Disciplines
Higher Education | History
Recommended Citation
Xavier University (Cincinnati, Ohio), "Xavier University Newswire" (2022). All Xavier Student Newspapers. 3175.
https://www.exhibit.xavier.edu/student_newspaper/3175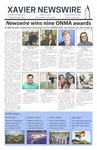 Included in
COinS