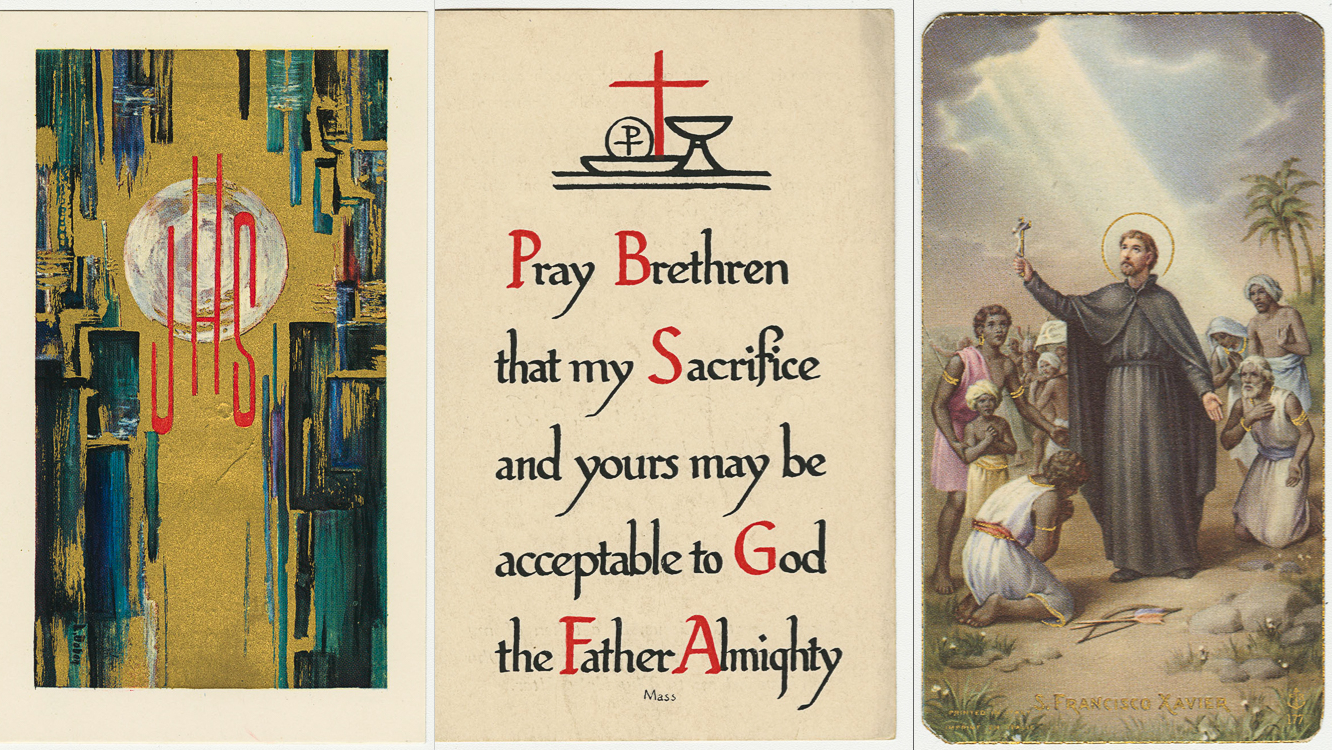 Preview
Keywords
Catholic Church; Prayer; Ephemera; Holy cards; Memorial works
Location
United States--Ohio--Hamilton County--Cincinnati
Description
Golden jubilee card for Robert Manning, 1893-1973. The front of the card contains an illustration of the Sistine Madonna and the back of the card contains biographical information and a bible verse. This card was published by J. O. Mooney Co., New York City.
Transcription
(front) Sistine Madonna (back)"Bless the Lord, my soul, remembering all He has done for thee." Ps. 102:2 In Remembrance of MY GOLDEN JUBILEE in The Society of Jesus Rev. Robert E. Manning, S.J. 1913-September 2-1963 Bellarmine Chapel Cincinnati, Ohio "Come, sing the Lord's praise with me, let us extol His name together." Ps. 33:4 ©1962 J. O. Mooney Co. N.Y.C.
Physical Object Format
Color card
Item Identifier
jmc00463_2d_02_02
Collection
XUA-41, Jesuit Memorial Card Collection
Recommended Citation
"Robert Manning golden jubilee card" (1963). Jesuit Memorial Holy Cards. 37.
https://www.exhibit.xavier.edu/jesuit_holy_cards/37
Rights
The Jesuit Memorial Card Collection is the physical property of Xavier University. U.S. and international copyright laws protect this digital resource. The majority of the cards in this collection were published after 1923 and therefore may not be in the public domain. Images, text, or other content downloaded from the collection may be freely used for non-profit educational and research purposes, or any other use falling within the purview of "Fair Use". However, in order to use the digital reproductions for any other reason users must have the express consent of the copyright holder. Contact Xavier University Archives to inquire about permissions to use the digital image.
Digital Publisher
Xavier University (Cincinnati, Ohio). Xavier University Archives
Keywords
Catholic Church; Prayer; Ephemera; Holy cards; Memorial works
COinS